Professional Carpet Cleaning Services for your home
Red Wine Stains | Coffee Stains | Pet Stains & Odor | Muddy/ Soiled area | Ink Stains - We can help!
You may think the only reason you need your carpet cleaned is so it looks nice, right? That is certainly one reason to schedule regular carpet cleaning; however, it's important to remember that carpet cleaning is an investment in your health, and preserving the life of your homes carpets. Carpets can quickly collect dirt, bacteria, dust mites and allergens. Though not always visible on the surface, these contaminants can actually pollute the air quality that you breathe daily in your home.
When you call in the Professionals from Table Rock Carpet Care:
You can rest assured that our commercial grade, advanced equipment will give your carpets the deepest and most thorough wash possible. Our Technications are IICRC Certified and have the experience and knowlage to properly clean your carpets removing the toughest stains meanwile helping to excend the life of your carpet by using proper cleaning procedures.
How often should I clean my homes carpets:
For most people once a year is a good schedule to stick to. Obviously this can change if you have a large family or some pets then you should get your carpets cleaned more often.
The Proper Carpet Cleaning Process: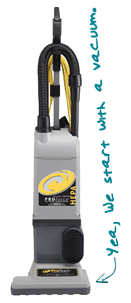 When one of our carpet cleaning technicians start the job at your home the first thing we will do is check the type of carpet you have. We are trained to identify all the different types of rug and the cleaning process for each style. Some homes have burber carpet, Wool, Nylon, or Polyester and there are different cuts of each. The next step may be an unexpected one, but it is necessary to properly clean the carpet, we "Pre-Vac" the home. It is common for some other carpet cleaners to skip this step because it takes additional time, but a simple vacuuming can remove up to 90% of loose soils!
Next we prepare the cleaning solution for the carpet. Again this is important that we assess your carpet to determine they type as well as what kind of stains we will be removing. A lot of carpet cleaners use one solution for every job, every type of carpet, every stain. Well, unfortunately not everyone's home or office has the same type of carpet or the same stains. Because our carpet cleaning technicians are IICRC Certified as well as have the experience they know what different carpet manufactures what their types of carpets cleaned with as well as what solutions work best for your home. If you want us to use environmently friendly products we carry them on our trucks just let us know.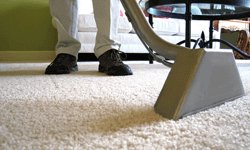 We will then clean your homes carpets using our heavy duty hot water extraction truck-mount machine; this is what will remove the rest of the forgin material from your carpet fibers. This is where the real cleaning takes place and takes the longest.
The work doesn't stop after were finished cleaning. Another step skipped by many other carpet cleaners to save time is the rake the carpet fibers to stand them back up. Although it is common to see the 'cleaning stripes' in carpet after you have your carpets cleaned we go back through your home and rake the carpets to stand them back up form laying over. Carpet manufactures do not recommend the carpets are left to dry with the fibers pushed down, so by raking them up the fibers dry evenly. Although this may not seem like a complicated process we want to highlight to you the importance of hiring a professional team who does not skip steps to save time. We belive in doing things right the first time around and that holds true for all of our customers.
How long will it take my carpets to dry:
Drying times can vary from different type of carpet to the temperature, and the weather outside. Generally, it takes about 7 hours for the carpets to dry.